USA KM2 COMBAT VEHICLE HELMET
Higher ballistics than the USA standard CVC Helmet.
The outer ballistic shell is comprised of an enhanced Kevlar composite structure which maintains the same Weight specifications as the standard CVC shell.
For use by armored vehicle crews with the M-138/G microphone and MK-1697/G headset unitized in a comfortable, adjustable liner. A three position switch allows radio, intercom, and listen-in only modes.
USA STANDARD PASGT BALLISTIC VEST
The United States Department of Defense recognizes our PASGT vest as the best body armor available for protection from exploding shrapnel and fragmentation.
Constructed of Kevlar high strength fibers, studies from Vietnam conclude that casualties could have been reduced 40% if every soldier wore a PASGT helmet and vest.
This lightweight design allows great mobility and versatility. In addition, the Kevlar material offer unprecedent heat and flame resistance. Thermal condutivity is lower than asbestos; the vest will not melt or support combustion.
Combat proven
Ergonomically engineered






AMMUNITION OFFERED
M433 HEDP
M406 High Explosive
M781 Practice
M576 Buckshot
M583 White Star Parachute
M661 Green Star Parachute
M662 Red Star Parachute
M713 Red Smoke
M715 Green Smoke
M717 Yellow Smoke
USABLE AMMUNITION
All Worldwide current production and surplus not exceeding 132mm. High velocity 40 mm ammunition must not be used in this launcher.
M-203PI Product Improved with40 MM Grenade Launcher System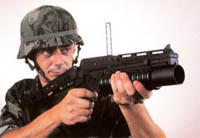 Give your forces the advantage of higly accurate 40 mm firepower. Now any combat rifle can be easily equipped with this advanced, patented grenade launcher system. 
The Combat proven M-203PI Grenade Launcher with a quick connect system that allows the M-203PI to be snapped on or off a rifle as easily as changing magazines. A Mounting interbar is attached to the rifle within the handguard which does not affect rifle operation.
The M-203PI launcher can be moved between a rifle and a pistol unit which allows it to be carried compactly and used without a rifle.
The Launcher can be moved between a rifle and a pistol unit quickly and easily.
Now Tactical requirements, not hardware, allow commanders to determine:
which troops will have both rifle and grenade launcher capability for mixed profile missions.
when granade launchers will be deployed, as launchers are not permanently attached to rifles.
which troops will function as dedicated grenadiers using lightweight pistol launchers as their primary weapon.
the tactical profile of troops, as launchers canbe carried out of sight, until time of use.
the mix, of ammunition supllied to troops, as the versatility of the M-203PI system allows a new variety of tactical options.
Collapsed M-203
Extended M-203